SIZE DOES MATTER: HOW TO DETERMINE YOUR PERFECT CENTER STONE SIZE
When it comes to diamonds or other precious gemstones, bigger is not always better—especially for the center stone in your engagement ring. While a larger diamond might seem like the obvious choice, there are actually a few reasons why you should consider going smaller.
Below, we go over the pros and cons of different center stone sizes and how to determine the size best for your unique engagement ring. Let's get into it!
WHAT MEASUREMENT SYSTEM SHOULD I USE TO SHOP FOR ENGAGEMENT RINGS?
When you're shopping for the perfect engagement ring, there are two ways to determine the size of your center stone: carat weight and millimeters.
CARAT WEIGHT
Carat weight is a measurement that indicates the weight of a diamond or other precious stone. It is calculated by dividing the total weight of the diamond by its carat value. One carat is equal to 200 milligrams (0.2 grams).
The carat is named after the seed pod of the carob tree which resembles a small brown bean. The carob tree has been cultivated for thousands of years. It grows in hot, dry climates and is native to Asia and Africa. The pods were used as a food source for humans and animals alike, and the seeds themselves were used as currency (the name "carob" comes from a Greek word meaning "bean").
In years past, the carob seed was relatively uniform in weight and size. This provided gemstone traders the opportunity to use them as a scale counterweight to determine size. Eventually, in 1907, the Fourth General Conference on Weights and Measurements adopted the metric carat and, in 1913, the modern metric carat was adopted by the United States.
STONE MILLIMETER
A gemstone's millimeter size (mm) is a measurement of the gemstone's visual size as opposed to weight. This is particularly important as certain diamond shapes can create the effect of a larger-sized gemstone than gemstones of the same carat weight.
For example, a 1-carat round diamond will appear smaller than a 1-carat pear-shaped diamond. Why? Because the 1-carat round diamond has a smaller surface area than a 1-carat pear-shaped diamond, it will look smaller when viewed from above despite having the exact same carat size.
WHICH SYSTEM OF MEASUREMENT IS BETTER WHEN PURCHASING GEMSTONES?
Both carat weight and millimeter size are valid measurements to consider when shopping for an engagement ring. And in order to find the perfect engagement ring for you, you'll need to consider both forms of measurement.
Diamond carats can be a great starting point when shopping for an engagement ring. Because it is a standardized measurement you know exactly what you are getting no matter what store you shop at. Conversely, millimeter size is useful in knowing the shape of the gemstone you want and how large you would like it to appear.
MM TO CARAT CONVERSIONS BASED ON SHAPE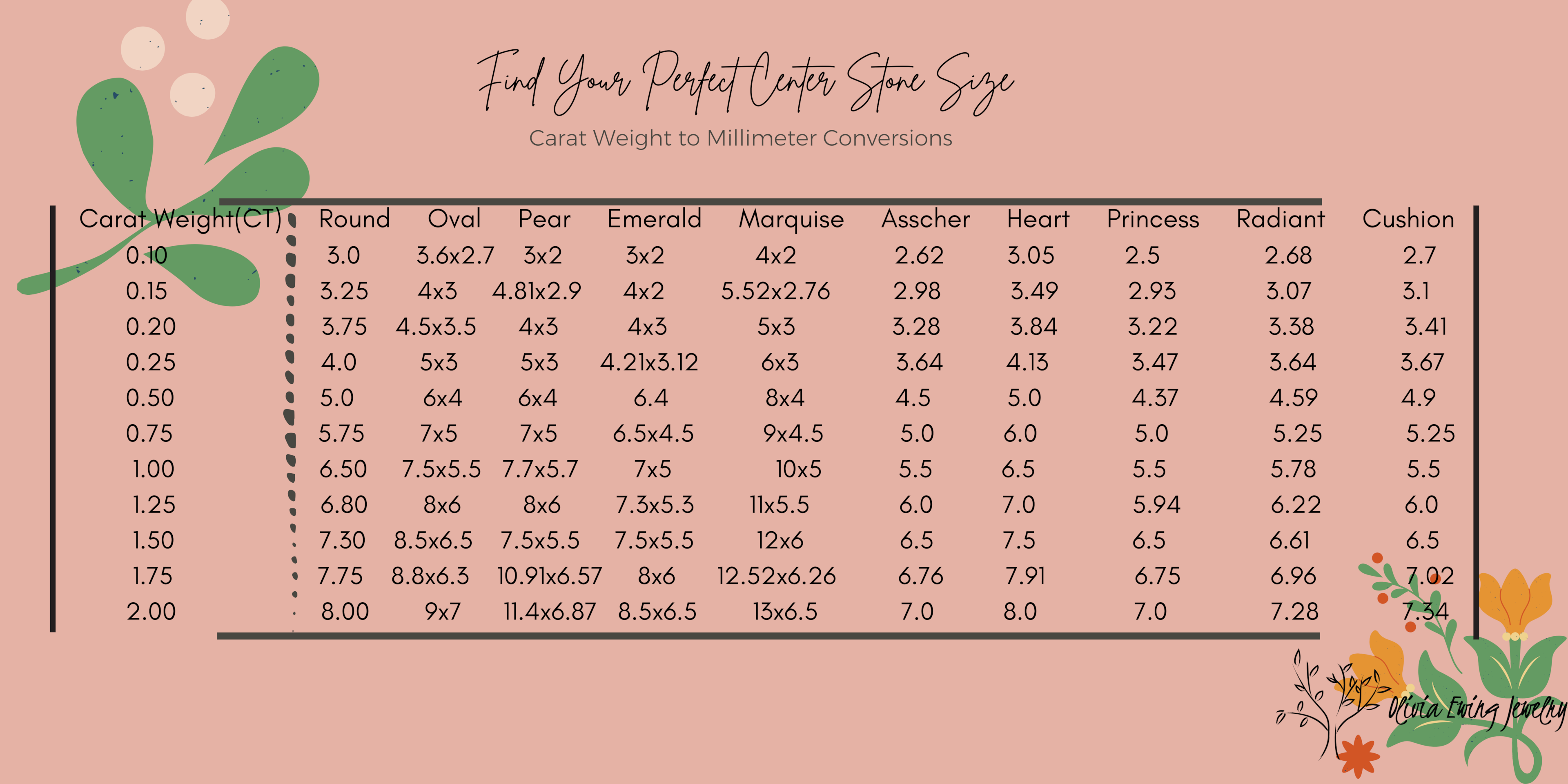 If you only have one of the stone size measurements, there's no need to worry! We've got you covered.
Just use our handy stone size converter chart above, and find the measurement that you do know. Then follow the measurements horizontally until you find your chosen stone shape.
For example, a 1.50-carat diamond will measure 7.30mm if it's round and 12x6 if it's Marquise shaped despite being the same carat shape. That's why it is always important to look both carat weight and mm size up before purchasing your stone.
TIPS ON FINDING THE BEST CENTER STONE SIZE FOR YOU
When shopping for your center stone, keep the following tips in mind!
CONSIDER YOUR GEMSTONE SHAPE
Diamonds and gemstones can come in a variety of shapes, from round to marquise. And while many people believe that the shape of the diamond is just a matter of personal preference, there's actually a lot more to it than that.
The shape of your diamond has an effect on its perceived size, which can make all the difference when you're choosing the right ring for your loved one. As the chart above demonstrates, the shape of your stones can create a special effect of being larger than its carat weight because of the size of the gemstone's face.
This means that if you have a certain look in mind you'll want to shop by mm size in that shape as the weight may not faithfully reflect the image you have in your head.
THE STYLE OF THE RING MATTERS
Your center stone may appear larger thanks to different band styles so it is important to take that into consideration when shopping for an engagement ring. For example, a halo setting frames your center stone with more stones, and if they are all the same color, they can combine to create the effect of one large stone.
Compare this with a solitaire-style band that offers no additional ornamentation. As such, your center stone commands all of the attention so it will appear true to size.
THINK PRACTICALLY
If you're in a profession or have a hobby that requires you to use your hands a lot, think about the size of the stone and how it will affect your ability to use your hands. A smaller stone will be more comfortable and easier on the hands, so if you're looking for a ring that you can wear every day, consider going with something less bulky.
OLIVIA EWING JEWELRY HAS THE PERFECT STONE SIZE FOR EVERY ENGAGEMENT RING
At Olivia Ewing Jewelry, we offer the most beautiful engagement rings in a variety of stone sizes and options.
No matter what your budget is, you can find the perfect ring for you. We have an extensive selection of diamond engagement rings in every shape, size, and color imaginable. We also carry beautiful gemstones such as sapphires, emeralds, and rubies.
Still not sure which gemstone size is right for you? Reach out to us today and we can help you decide.