EOWYN INSPIRED ENGAGEMENT RINGS FOR THE BADASS IN YOUR LIFE
Despite often being overlooked by fans that favor the Elves Arwen and Galadriel, Eowyn proves time and time again that she can kick butt and serve looks among the best of them. In her honor, we've rounded up a list of our top five engagement rings that we could totally see her wearing into battle. But before we begin, let's go over the key difference between Eowyn's portrayal in the Lord of the Rings book series vs. the New Line Cinema movies.
WHO IS EOWYN AND WHAT IS HER ROLE IN LORD OF THE RINGS?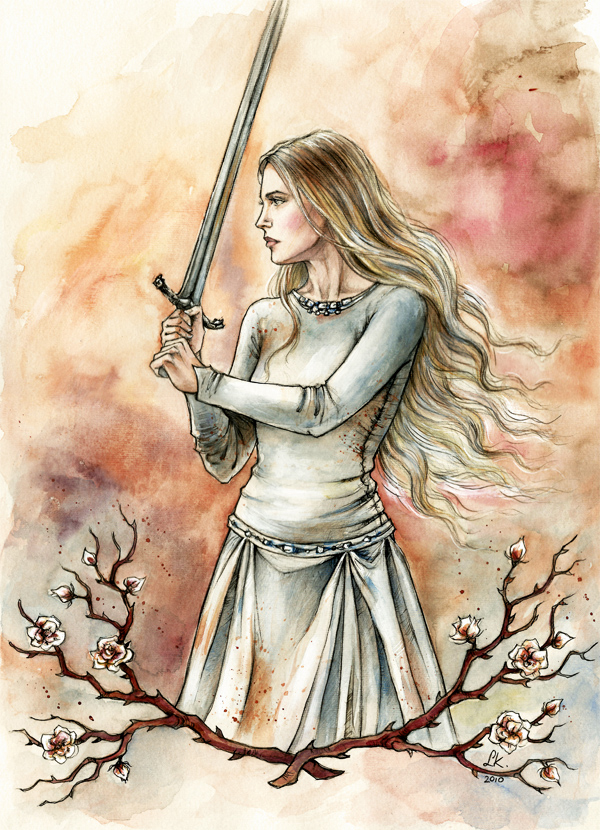 Eowyn, aka the White Lady of Rohan, the Shieldmaiden of Rohan, the Lady of the Shield-arm, Lady of Ithilien, and the Lady of Emyn Arnen, was the daughter of Eomund and Theodwyn. She had a younger brother named Eomer.
At a young age, after both of their parents had passed away, Eowyn and her brother were sent to live with their uncle King Theoden. There they grew up together in Edoras under his care. Before the War of the One Ring commenced, Eowyn stayed in Meduseld, and took care of her aging uncle as his health deteriorated under the influence of the evil Saurumon and Grima Wormtongue.
Once the War of the One Ring began she was chosen as a leader for the people of Rohan and led them to shelter within the White Mountains as Aragorn and co faced Sauron at the Battle of the Hornburg.
At this point in the series, Eowyn has formed a pretty big crush on Aragorn, (and, really, who could blame her?), and proclaimed her love as he passed through on his way to The Paths of the Dead. Unfortunately, Aragorn had already made vows with Arwen, and Eowyn was left heartbroken.
Eowyn's pining for Aragorn is highlighted in the Warner Bros film. And, while she is surely heartbroken in the book as well, her heartbreak doesn't drive most of her characterization.
Ever the badass, Eowyn picks herself up and dusts herself off. When Theoden's aid is requested against Mordor Eowyn disguises herself as a man and rides into the battle of the Pelannor Fields. The battle is bloody and the Witch-king of Angmar is laying waste to many honorable men. After witnessing him strike her Uncle she and the hobbit, Merry, are the only ones to stand their ground. And, when the Witch-king boasts of not being able to be killed by any man she declares her femininity and deals a deadly blow.
Injured, Eowyn is sent to the Houses of Healing where she meets and falls in love with Faramir, eventually forsaking her desire for battles for a love of healing.
Now that we've touched the tip of the iceberg of who Eowyn is and her role in Middle Earth, let's get on the the Lord of the Rings inspired engagement rings!
THE CALAIS DIAMOND SOLITAIRE RING
Referred to as the "White Lady of Rohan" due to her pale complexion and love of white or cream dresses that she accessorizes with a gold belt, Eowyn would adore the stylish simplicity of the Calais Diamond Solitaire Ring.
This breathtaking ring features a 1-carat, brilliant-cut, diamond set delicately on 6 prongs. True to the White Lady name, the stunning center stone glistens and gleams, casting white brilliant flashes of light.
We love the idea of paying homage to Eowyn's flaxen hair as it was described in the book as a, "river of gold" with the vibrant hue of solid yellow-gold but white-gold, in all of its shimmering glory, would be an equal testament to the beauty of the White Lady of Rohan.

THE GARLAND RING
When it comes to Eowyn, there's no question that she'd want a ring that reflects her passion for sword fighting.
She's a warrior at heart, and we don't see her as someone who would want a big clunky rock on her finger. She likes to swordfight, after all, and it's hard to do that with a diamond weighing you down.
In fact, we see her more as someone who would prefer a stylishly simple wedding ring like the Garland Ring. Here, a solid yellow gold band delicately encircles the finger like a diadem around the head. Detailed with real budded texture and knots and whirls from an organically foraged sprig, the Garland Ring is comfortable enough for everyday wear and elegant enough to accessorize any evening wear.
THE MADRID DIAMOND RING
Family is important to Eowyn. Raised alongside her brother and cousin Theodred, we first meet Eowyn as she aids her sickly uncle. At Theodred's funeral, Eowyn wears an austere gown of dark velvet and a golden circlet with an intricate flower design around her brow.
The Madrid Diamond Ring effortlessly conjures this stunning circlet by featuring four sparkling diamonds that softly glitter from their bed of creamy rose-gold. Sculpted from a real foraged twig, the ring is a delicate interweaving of feminine and ethereal materials, perfectly melding the real budded details and precious metals to create a unique wedding ring that will stand the test of time.

VERONA ROUGH MONTANA SAPPHIRE BEZEL RING
Eowyn loves a good flower accessory. (See the circlet she wears for her cousin's funeral), and we think she would love the Verona Rough Montana Sapphire Bezel Ring.
Here, a natural, teal-blue Montana Sapphire is bezel-set within a rose-gold budded band that was cast from a real foraged twig. All of the natural whirls, loops, and buds have been preserved in solid gold, resulting in a dainty yet secure engagement ring that contains all the beauty of a softly budding flower.
SHOP THE VERONA ROUGH MONTANA SAPPHIRE BEZEL RING



AURORA WHITE SAPPHIRE THREE STONE RING
Faramir and Eowyn meet in the House of Healings after sustaining injuries during the Battle of Pelannor Fields. While initially reluctant to form a friendship with Faramir, Eowyn eventually can't help but connect as they walk among the walls of the city. Faramir cloaks Eowyn in his mother's blue robe adorned with stars. It is then that a great Eagle flys over and spreads the news of Sauron's demise.
The Aurora White Sapphire Three Stone Ring pays perfect homage to this moment of great joy and healing. Two bezel-set, powder-blue sapphires flank a brilliant-cut white sapphire in a stunning display of color and shine, much like the blue robe with white brilliant stars. And while we can't command a great Eagle to singingly pronounce your love, we think the Aurora might do a good enough job.
SHOP THE AURORA WHITE SAPPHIRE THREE STONE RING
CELEBRATE THE SHIELD-MAIDEN IN YOUR LIFE WITH AN ENGAGEMENT RING FROM OLIVIA EWING JEWELRY
We know how important it is to show just how special she is to you, so we've put together a collection of rings that are as beautiful as they are powerful. These designs are inspired by the strength and bravery of Eowyn, giving you the opportunity to honor her past—and her future.
Whether you're looking for something simple or something with a bit more flair, we've got what you need. And when you order from Olivia Ewing Jewelry, our commitment to quality goes beyond making sure that your ring looks great on its own—we also make sure that it fits comfortably on your finger so that it's always easy for you and your love interest to get up close and personal with one another.