SEPTEMBER BIRTHSTONE BABIES TAKE NOTE
Throughout history, the stunning sparkle of sapphire has scintillated entire nations with its vibrant color and striking beauty. Here, we break down how different cultures in history viewed the sapphire, the spiritual meaning of the sapphire, and more. So sit back, relax, and read on to find all about September's birthstone, the sapphire gemstone.
WHAT IS A SAPPHIRE?
Sapphire is a type of corundum that has been valued for its rich blue color since the time of the Ancient Greeks. Sapphires are formed in metamorphic rocks when aluminum and oxygen combine with iron, titanium, vanadium, or magnesium elements and then crystalize into corundum. The sapphire crystals that we see today were formed over 500 million years ago when these rocks were buried in the earth's crust at high temperatures and pressures.
The color of sapphires comes from impurities such as iron or chromium. The most common type of sapphire is blue, but they can also come in pink, yellow, green, and orange hues as well.
Sapphires are mined all over the world; however, the largest deposits are found in Burma (Myanmar), Thailand, and Sri Lanka.
WHAT IS THE DIFFERENCE BETWEEN SAPPHIRES AND RUBIES?
While both corundums, sapphires, and rubies are distinguished separately. Why? Simply because the deep blue of sapphire and vibrant red of the ruby are so recognizable that they are seen as separate stones.
In addition to color, another important distinction is that sapphires and rubies have different geological formations. While both rubies and sapphires are found in Myanmar's Mogok Stone Tract, sapphires are formed in granitic pegmatites while rubies are formed in marble.
THE HISTORY OF SAPPHIRES
The history of September's birthstone is as long and storied as the depths of the sea that the blue sapphire emulates.
ANCIENT GREECE
Sapphire gets its name from the Greek word 'sappheiros', although some scholars believe that the name 'sappheiros' was actually the Greek name for lapis lazuli. The Greeks attributed the sapphire to the god, Apollo, and the oracles of Delphi were usually found wearing sapphires as it was believed to connect them with the spiritual realm.
Greek Kings and Queens also wore sapphire and felt that it would protect them from harm and envy. Finally, sapphire was commonly found in any healer's medical bags, as the precious gem was believed to cure colic, mental illness, and rheumatism, and strengthen eyesight.
PERSIA
Ancient Persians called sapphire, "lazvard" which translates to "eye of the sky". The sapphire was particularly revered as Persians believed that the earth was leaning against a great sapphire (hence the blue hue of the sky).
MIDDLE AGES
Sapphire jewelry was highly prized in the Middle Ages. Clergy frequently wore blue sapphire to represent Heaven and many commoners believed the gem could attract heavenly blessings.
After a crusade, crusaders were known to test their wives for infidelity by having the wife hold or wear a sapphire. If the sapphire changed colors or faded, it was proof of her infidelity. Because of the sapphires association with truth, faithfulness, and sincerity, it was a common gemstone of choice for engagement rings.
SAPPHIRE TYPES AND THEIR MEANINGS
While a royal blue is the sapphire's most desired hue, sapphires come in all different colors and each color has a different (but important) meaning.
BLUE SAPPHIRE
When people consider the September birthstone they think of a blue sapphire. Deep blue, these sapphires have long adorned the necks of royal kings and queens. One of the most well-known sapphires in the world is Princess Diana's 12-carat oval-cut sapphire engagement ring.
In addition to royalty, a blue sapphire symbolizes celestial faith and hope. It's also known to activate the third-eye chakra and enhance expression.
YELLOW SAPPHIRE
Yellow sapphire is an incredibly dependable gemstone that has the power to draw wealth into your home and pocket while increasing your awareness of higher principles. Its bright and cheery yellow color symbolizes joy and it is well-loved for its power to constantly call-in joy.
PINK SAPPHIRE
Pink sapphires are a symbol of love, compassion, and abundance. When you're in a romantic relationship with someone, pink sapphires can help you recognize the abundance that comes through good fortune. These pink gems also represent power through hardships, so if you've experienced some stressful situations recently—or if you're feeling like it's time to take a stand on an important issue—a pink sapphire may be just what you need.
WHITE SAPPHIRE
The rarest type of sapphire found, white sapphire is not white at all but instead completely colorless. The white sapphire corresponds to the crown chakra and is supposed to bestow beauty and prosperity to its wearer.
A white sapphire can symbolize clarity and has the power to cleanse the mind to allow creative and clear thoughts to come through.
GREEN SAPPHIRE
NAPLES GREEN MONTANA SAPPHIRE THREE STONE RING
Green sapphires are thought to be a stone of tranquility and elegance and are believed to stimulate the heart chakra. They're said to help you reach a state of balance and harmony with yourself and your surroundings.
They are also thought to have healing properties that can help people who have trouble sleeping or simply need some peace of mind. Green sapphires have been used in jewelry for centuries because they represent love, friendship, and loyalty—all of which make them perfect for any occasion.
ORANGE SAPPHIRE
The cheery-hued orange sapphire is known to symbolize joy, happiness, and friendship and can help you enhance your experiences and communication. Those within the creative field would do well with orange sapphire jewelry as it is said that this brightly-hued corundum will align creative expression with the heart.
VIOLET SAPPHIRE
The violet sapphire is a gemstone that can help you open your crown chakra to allow you to reach new spiritual and metaphysical insights. Its deep, luxurious hue is as beautiful as it is enigmatic.
The violet sapphire is additionally, a stone of spiritual protection, bringing strength, courage, and self-confidence to those who wear it. It provides protection against negative energy and psychic attack, allowing you to focus on what matters most: yourself.
PADPARADSCHA SAPPHIRE
The Padparadscha Sapphire is a stone that is said to bring joy, energy, and foresight to its owner. With soft hues of pink and orange that seem to emulate a sunset, this gemstone is truly a stunning sight to behold.
The name padparadscha comes from the Sanskrit word for "lotus flower." The lotus flower is symbolic of purity, which can help you make changes in your life for the better.
MONTANA SAPPHIRE
Montana sapphires are a stone that represents strength, honesty, and wisdom. They are also associated with courage, loyalty, and self-reliance.
The natural beauty of Montana sapphires is unparalleled—they have been described as "crystal blue." This means that their color is pure and consistent throughout the entire gem. They are also incredibly durable and resistant to chemicals, which means you can wear them every day without worrying about damaging the stone.
STAR SAPPHIRE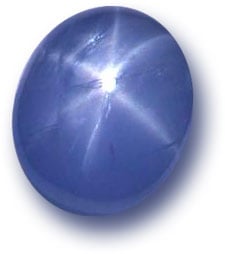 A star sapphire is a gemstone that has an asterism, or a star-shaped reflection. It's caused by needle-like inclusions of rutile, which reflect light and create the effect. The star sapphire signifies the journey of life and how it is never easy or straightforward; there will always be ups and downs but as long as you keep going forward, you will reach your destination. In modern times this gemstone has become synonymous with hope and optimism in spite of the difficulties that we face in our daily lives.
CELEBRITIES WITH SAPPHIRE ENGAGEMENT RINGS
Sapphires have long been associated with royalty and nobility, so it's no surprise that they're a popular choice for celebrity engagement rings.
PRINCESS DIANA
As mentioned above, Princess Diana's sapphire engagement ring is one of the most recognizable blue sapphires today. After her untimely death, Prince Harry received the ring but ultimately swapped it with Princess Diana's gold Cartier watch that Prince William had received so William could propose to Kate Middleton with it.
MARY-KATE OLSEN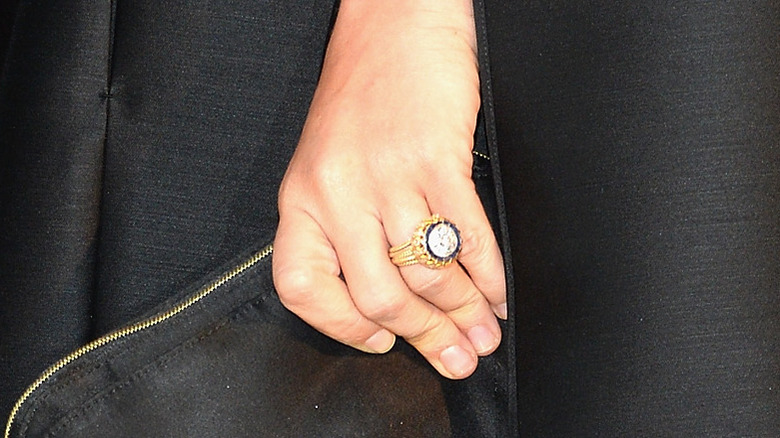 Although Mary-Kate Olsen and French banker Oliver Sarkozy's marrige didn't last, Mary-Kate's vintage, sapphire encrusted diamond set in yellow gold will stand the test of time.
PENELOPE CRUZ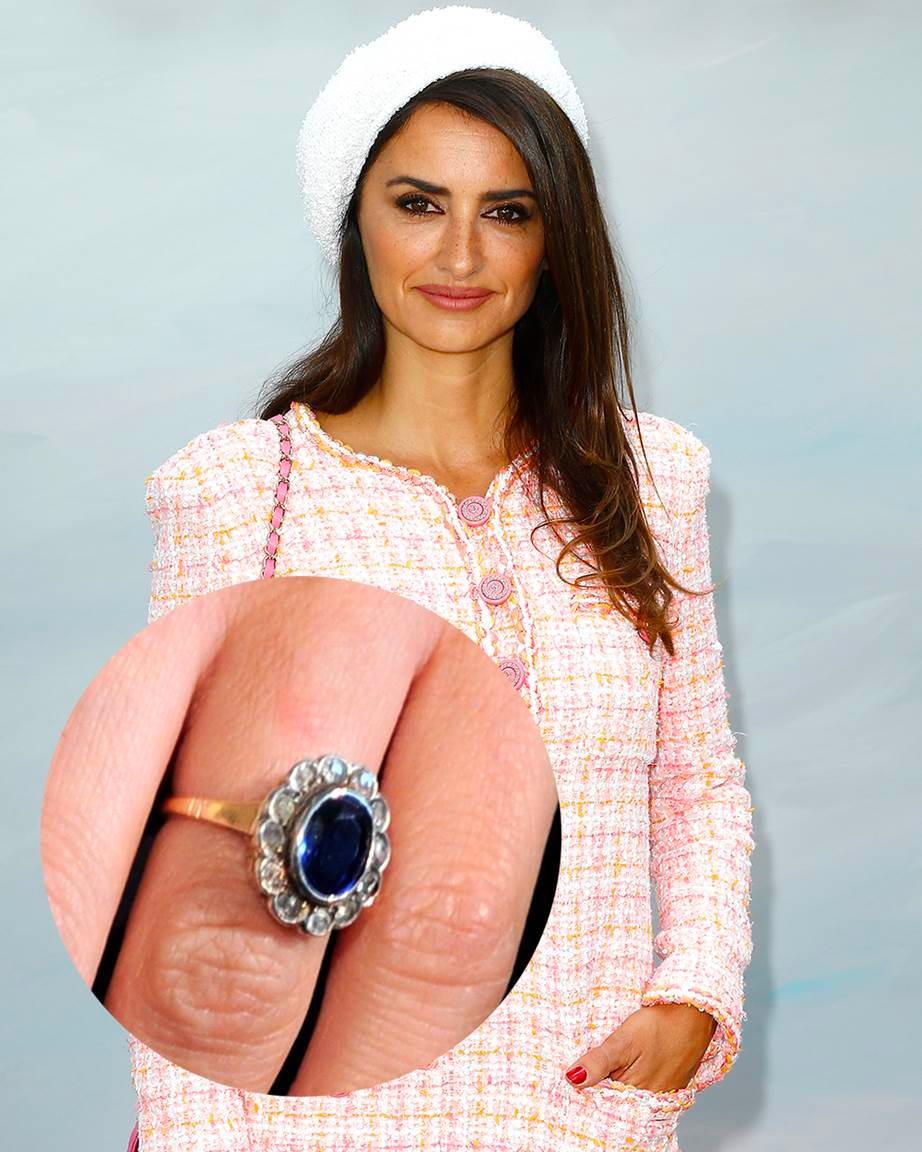 Javier Bardem proposed to Penelope Cruz in 2010 with a vintage three-carat oval sapphire that is surrounded by diamonds in a halo petal style.
FIND YOUR PERFECT SAPPHIRE ENGAGEMENT RING AT OLIVIA EWING JEWELRY
When you're searching for the perfect engagement ring or piece of fine jewelry, you want something that's as unique as you are. That's why we make all of our stunning engagement rings with ethical sapphires that are inspired by the natural world.
So whether you were born in September or simply admire the enduring meaning of sapphire, we have a ring for you. Browse our selection of stunning sapphires now or reach out to start designing your perfect engagement ring or piece of fine jewelry!