LORD OF THE RINGS, LORD OF OUR HEARTS
Aragorn, the venerable hero and savior in J.R.R. Tolkien's beloved books and immortalized in the iconic film series, The Hobbit and Lord of the Rings. Aragorn's remarkable journey begins in the humble abode of Rivendell, but his true destiny as the rightful heir to the Gondor throne (and the lost realm of Arnor) shines forth as he matures and confronts love's maddening challenges with unyielding fortitude.
ARAGORN AND ARWEN: THEIR LOVE STORY
Arwen and Aragorn's love story is an epic one, marked by moments of pure magic and determination. The moment Aragorn sets his eyes on Arwen, he is completely spellbound by her ethereal presence. Their love blossoms over the years, with Arwen eventually making the difficult decision to give up her immortality in order to be with Aragorn.
Their journey to matrimony, however, is not without its challenges. Arwen's father, Elrond, warns of the formidable perils that could consume Aragorn. Until he proves himself worthy of his destiny, Elrond prohibits their marriage.
But Aragorn and Arwen's love withstands the obstacles thrown their way, and thirty years later, they reunite in Lothlorien. Arwen defies her father and chooses a life of mortal love and companionship.
Even then, their union is not cemented until Aragorn proves himself in the War of the Ring, defeating Sauron and securing his throne. They marry on a midsummer night and enjoy 120 years ruling as King and Queen of Gondor and Arnor. But Aragorn's mortality catches up to him, and shortly after his passing, Arwen dies of old age and (probably) grief.
Their story is a testament to the sacrifices made in the name of love. It's a continuous battle with light and darkness, but their love proves to be powerful. As a result? Millions of people across the world have looked to Aragorn as the pinnacle of partnership, (and really, who could blame them?!).
WAIT, DOES ARAGORN HAVE A WEDDING RING?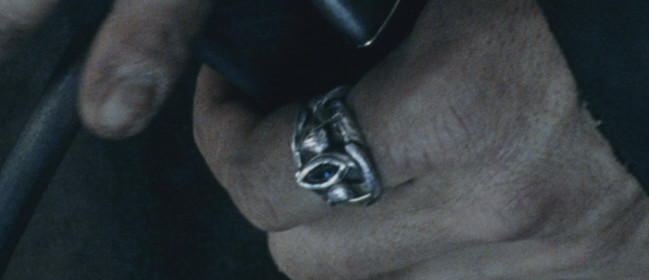 Aragorn and Arwen's love story is one for the books but is there even any mention of a wedding ring in the books? The answer is simple but nuanced.
THE RING OF BARAHIR
While the books and films do not specifically mention or show Aragorn with a wedding ring, many fans feel that his beloved Ring of Barahir serves as a faithful stand-in. Crafted with emerald green jewels, the Ring of Barahir is described in a verse from Tolkien's unfinished 'Lay of Luthien':
"These Gnomes had setas eyes of serpents twined that metbeneath a golden crown of flowers,that one upholds and one devours:the badge that Finrod made of yoreand Felagund his son now bore."
The Barahir Ring possesses a rich history that spans the ages of Middle Earth. Though it doesn't possess any magical powers of its own, its significance lies in its origin and the relationships it represents. The ring was crafted in the magnificent elven realm of Valinor by the skilled Noldor, and it made its way to Middle Earth through the hands of Finrod Felagund.
Finrod bestowed the ring upon Barahir as a symbol of their deep friendship, an act of gratitude for Barahir's heroic act of saving Finrod's life. From that moment, the ring passed through the generations, always finding its way from father to son, until it eventually reached Isildur. Later, it found its final destination in the possession of Elrond, who recognized the heritage and valor embedded in the ring and presented it to Aragorn.
Aragorn, aware of the ring's storied lineage, utilized the Barahir Ring in his proposal to Arwen, symbolizing not only their love but also the connection between their two lineages. Thus, this ancient and unassuming ring holds great significance as a testament to loyalty, courage, and the enduring bonds of friendship and love that span generations.
THE EVENSTAR AND ELFSTONE
It's natural to wonder if Aragorn wore any wedding jewelry to symbolize his love and commitment to Arwen. In the world of LOTR, the Evenstar was the wedding ring given to Arwen in the film, while in the books, it was referred to as the Elfstone. Though the ring was not specifically mentioned as belonging to Aragorn, it represented their eternal love and devotion.
The Evenstar and Elfstone represented much more than just jewelry. They were a token of Arwen's love and commitment to Aragorn, imbued with all the hope and sacrifices they made for each other. Arwen's decision to choose a mortal life with Aragorn made her sacrifice everything she had ever known, including her immortality. The Evenstar and Elfstone were symbols of that sacrifice and Arwen's eternal love for Aragorn.
In the end, Arwen experienced the bitterness of mortality, but she treasured the time she had with Aragorn and the love they shared. The Evenstar and Elfstone embodied that love, serving as a constant reminder of all that they had overcome to be together.
GET THE LOOK: MEN'S WEDDING BANDS
Ok, you got us, while Aragorn didn't really have a wedding band, he did rock a varied assortment of breathtaking jewelry. Want to channel Aragorn but are unsure of where to start? We've got you covered with three stunning Lord of the Rings-inspired wedding bands that are sure to set your heart (and style) on fire.
THE UNITY EMERALD SOLITAIRE RING
Just like the shimmering emerald green Elfstone, go for the green with the Unity Emerald Solitaire Ring! This ring features a 5mm vibrant green round cut emerald, a band of either solid gold or platinum, and is sculpted from real twigs to create a symbol of friendship, love and unity, in true Middle Earth fashion.
THE DRIFTWOOD RING
Looking for a ring that exudes understated elegance and pays homage to the love between Arwen and Aragorn? Look no further than the Driftwood Ring, available in gold, platinum, or palladium. Crafted from real driftwood harvested off the beautiful coast of Maine, this 6mm half-round band offers a unique and meaningful choice for wedding rings that symbolize the resilience of your love in a stunning Arwen and Aragorn inspired wedding band design.
Just like Arwen and Aragorn's unwavering devotion, the Driftwood Ring represents the strength and unity forged through challenging times. It serves as a constant reminder that, together, you can conquer any obstacle, even the mighty Sauron.
THE MONHEGAN
Looking for a wedding band that perfectly suits the hunky and adventurous spirit of your partner? Consider the Monhegan wedding band, a fantastic choice that combines a chunky design with the natural beauty of real birchwood. This 8mm ring is crafted to capture attention and make a bold statement.
The Monhegan wedding band stands out with its substantial size and commanding presence on the hand. Its chunky profile signifies strength and masculinity, reflecting the rugged and adventurous nature of your partner. Made from authentic birchwood, this ring evokes a sense of the outdoors and carries the essence of nature with it.
The use of real birchwood adds a unique touch of organic beauty to the Monhegan wedding band, highlighting the intricacies and imperfections that come with nature's creations. Each ring becomes a one-of-a-kind piece, symbolizing the uniqueness of your love and the extraordinary journey you're embarking on together.
FIND YOUR OWN ARAGORN INSPIRED WEDDING RING AT OLIVIA EWING JEWELRY
At Olivia Ewing Jewelry, we are passionate about crafting unique and beautiful wedding bands that pay homage to your love story and embody the magical essence of fantasy-inspired design. Our Lord of the Rings inspired collection features a range of stunning choices that showcase craftsmanship and materials inspired by the natural world.
Whether you are seeking a subtle and understated design or a bold and adventurous statement piece, our collection of wedding bands offers a diversity of options to fit your preference and style. Each of our rings is crafted with care and attention to detail, ensuring that you receive a high-quality piece that you'll treasure for a lifetime.
Our goal is to help you create your own fantastic world of love, one ring at a time. We understand how special your relationship is, and we strive to design wedding bands that reflect the unique bond you share. So whether you want Arwen and Aragorn wedding rings or a unique ACOTAR-inspired gem, when you choose a design from Olivia Ewing Jewelry, you're not just choosing a ring; you're choosing a symbol of your love that captures the essence of your journey together.