FIND YOUR DIAMOND ENGAGEMENT RING IN THE ROUGH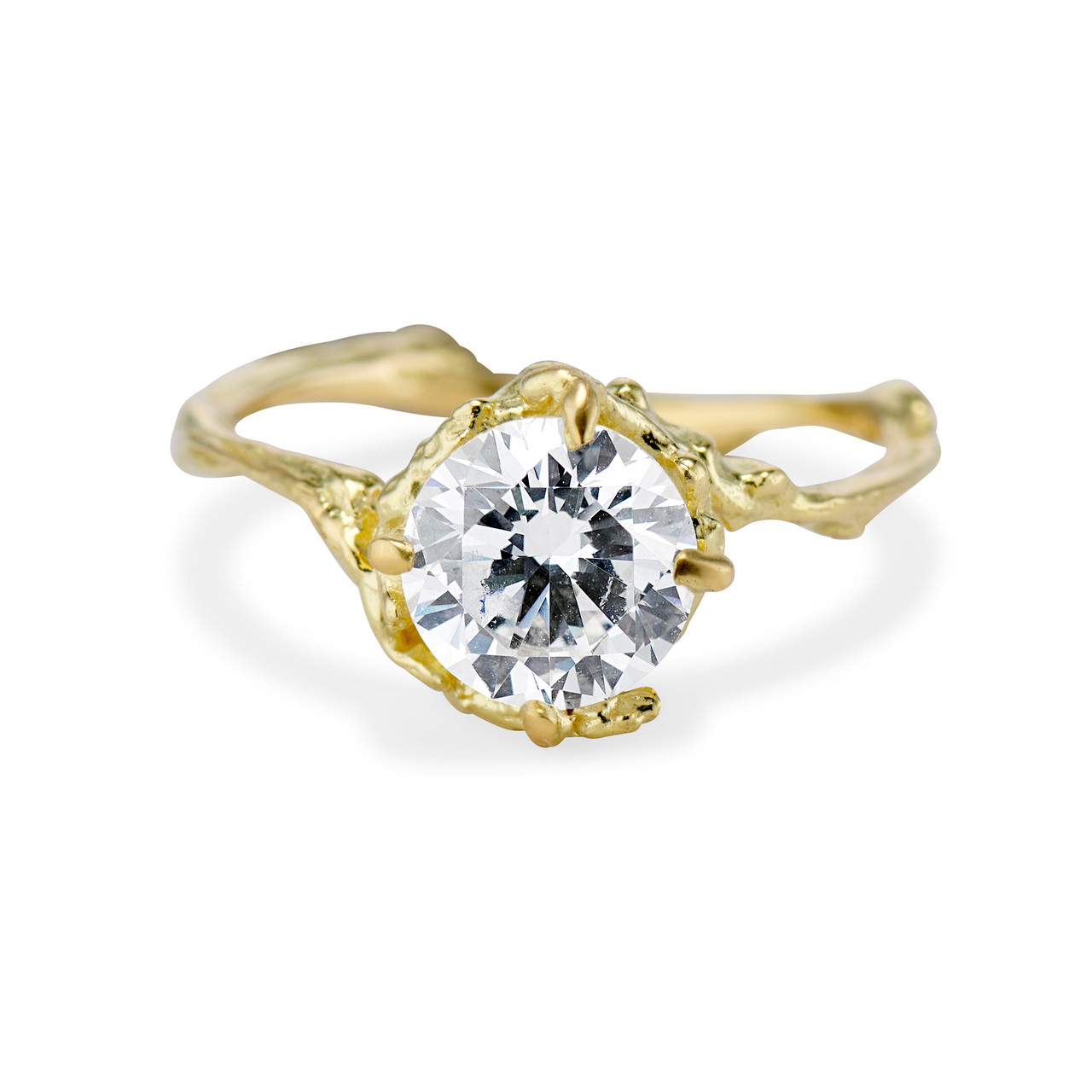 When it's time to select the perfect engagement ring there are many factors to consider. We know engagement ring shopping can feel overwhelming and that is why Olivia Ewing Jewelry is here to make the process as fun and as easy as possible. With these expert tips, we'll help you match your life partner's style with their perfect dream ring in no time.
When considering an engagement right there are many variables that factor into the decision. In this article, we will discuss style, carat weight, types of gemstones that are engagement ring-worthy, diamond cuts, and metals. By the time you are finished reading, you will be prepared for buying an engagement ring that will have your partner immediately saying yes.
WHAT ARE THE DIFFERENT STYLES OF ENGAGEMENT RINGS?

There is an engagement ring for every individual's iconic personal style out there you just need to know where to look. Here are 5 of the most popular styles and who they may be the perfect fit for.
DOES CARAT WEIGHT MATTER?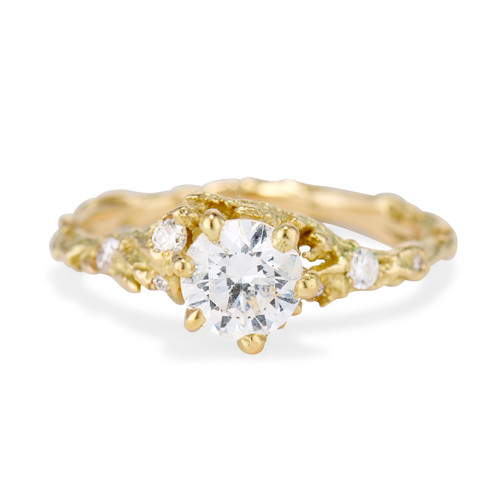 Bigger doesn't necessarily mean better when considering an engagement ring's carat weight. It is most important to choose a stone that speaks to your person's personality. Prioritize sentimental value over a hefty price tag. Budget wise the more carats the more expensive and diamond prices can be astronomical. The weight of a diamond engagement ring can also affect its appearance. Bigger diamonds typically are thought to bring more sparkle and impact to a ring. Now, with that being said the cut is in fact the key when it comes to a show-stopping engagement ring.
Carat weight can also affect ring size. Depending on the stone you may need a thicker band or a higher setting. Stones that aren't so weighty allow for much more diversity in regard to band style. When you choose a diamond strictly for a high number of carats you are more likely to see inclusions or imperfections in the stone. These factors are easier to exclude when you size down. No matter if you go big or go for something that feels a bit closer to home what's important is that your engagement ring purchase leaves you satisfied and your partner glowing.
WHICH GEMSTONE SHOULD TAKE CENTER STAGE?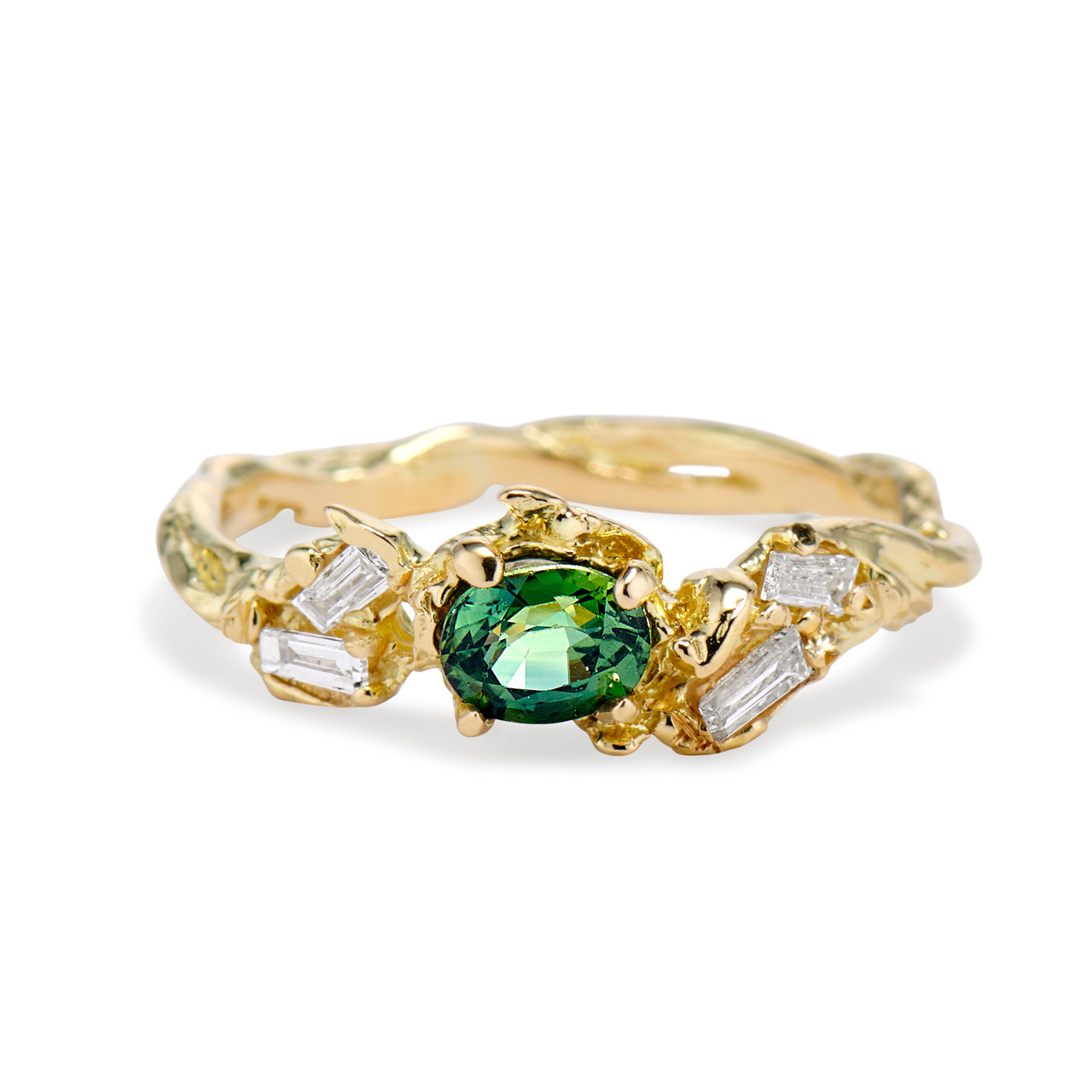 The center stone is generally speaking the most important part of any engagement ring. Whether couples opt for the traditional diamond or choose a unique ring that embraces vibrant colors Olivia Ewing has something for everyone. There is more than meets the naked eye when it comes to precious gem symbolism so here is a rundown of the secrets stones may hold.
Diamond: A traditional diamond's beauty lies in its blinding white sparkle. Diamonds represent faithfulness, love, and passionate relationships.
Sapphire: The deep blue depths of sapphires are ideal for those who love nothing more than a long day soaking in a sun-dappled sea. Sapphires are associated with loyalty and fidelity. If blue isn't your spouse-to-be's favorite color sapphires come in a wide range of variations including pink, yellow, and green.
Ruby: Rubies are the deep red color of love. Passion is symbolized in every facet of this stunning stone.
Emerald: Emeralds are an elegant choice for an engagement ring. Their bold green color represents growth, new beginnings, and success in all things.
Morganite: Morganite's pinky peach color is a divine choice for a feminine sophisticated woman's engagement ring. Morganite symbolizes sweetness, romance, and love.
Aquamarine: Aquamarine is a light blue-green gemstone that reminds us of a fresh Spring day. It symbolizes purity, hope, and calm. A wonderful fit for a zen goddess.
Amethyst: Amethyst's purple color stands out in the crowd. It is associated with is a purple gemstone that is associated with spiritual purity and tranquility.
Moonstone: Moonstones are one of our favorites here at Olivia Ewing Jewelry. These milky celestial stones represent feminine wisdom and a new and exciting start.
DETERMINE WHAT DIAMOND CUTS AND DIAMOND SHAPES SPEAK MOST TO YOU
While often used interchangeably, a stone's cut is actually the type of facet utilized to allow gemstones to emit light in different manners, while a stone's shape is the specific outline and shape of the gemstone.
Olivia Ewing Jewelry offers three different cuts of gemstones:
THE BRILLIANT CUT
In the diamond industry the brilliant cut is a popular shape that takes a round diamond to the next level. Known for its high wattage of sparkle it is a circular shape with 58 facets (facets are the flat surfaces of a gemstone).
THE STEP CUT
A step cut is characterized for its much loved parallel step-like facets, hence the name. These facets draw the eye towards the center of the diamond or gemstone and provides an unobstructed view of the clarity and color of the stone.
While a step-cut diamond or gemstone may not emit as brilliant of flashes as brilliant-cut or, even rose-cut gems, the step-cut produces a dazzling hall-of-mirrors like effect and emits sustained flashes of light.
THE ROSE CUT
Dating back to the 16th century, a rose-cut diamond is renowned for its flat bottom and triangular-shaped facets that create a stunning homage to the rosebud. In general, rose-cut diamonds will emit a slightly softer glow than brilliant-cut diamonds. And as it turns out, for good reason as the rose-cut rose to prominence when many were still receiving indoor light from candles and were looking for a cut to effectively reflect back and shine with candlelight.
At Olivia Ewing Jewelry, our most popular shape is the round-brilliant thanks to its classic appeal and maximum brilliance. But we just don't offer round diamonds, in fact other shapes to consider are:
THE OVAL CUT
Made popular by Princess Diana the oval-cut diamond has an elongated shape with 56-57 facets. It's a modern take on a brilliant cut stone and perfect for the style maven bride.
THE MARQUISE CUT
Beauty is in the eye of the beholder as well as in the eye shape of a marquise-cut stone. An oval shape tapers out into two points creating a silhouette that is for the bride who goes to the beat of her own drum.
THE PEAR CUT
The person who receives a pear-cut diamond may cry tears of joy over this teardrop-shaped masterpiece. Pear-cut diamonds lend themselves to contemporary engagement rings that are fresh and exciting.
THE EMERALD-CUT
An emerald-cut jewel utilizes the step-cutting style mentioned above to create a diamond shape that is both modern and classic as in our Feyre Emerald-Cut Diamond Cluster engagement ring.

WHICH PRECIOUS METAL SHOULD YOU CHOOSE FOR YOUR SPOUSE-TO-BE'S ENGAGEMENT RING?
Engagement rings are much more than just the stones they hold. In order to bring personality to an engagement ring or wedding band the precious metals used must be chosen carefully. The band of an engagement ring is where jewelers can truly be artists. At Olivia Ewing Jewelry we pride ourselves in our nature-inspired jewelry that integrates the use of found twigs to hand-molded into bands that are then cast in precious metals. Let's break down four of the most popular precious metals for engagement rings: yellow-gold, white-gold, rose-gold, and platinum.
Yellow-Gold
Yellow-gold has been the go-to metal framework for engagement rings for centuries. The warm sunny hue is made by mixing pure gold with a mixture of copper and silver. It is a classic look that is coming back into popularity and many jewelers are creating bands with new shapes and styles with this metal.
White-Gold
White-gold is made by combining gold with a white metal like nickel or palladium. White gold is the perfect choice for a partner who has a modern style that loves silvery tones.
Rose-Gold
A rose-gold ring is made when gold is mixed with copper and silver. The more copper the pinker the ring. This precious metal has a vintage feel to it and is incredibly romantic.
Platinum
Platinum is the most durable metal on the list and the most rare. If your partner is someone who works with their hands platinum is the best fit. No dings or scratches, just a beautiful silvery symbol of your love.

Olivia Ewing Jewelry Has The Engagement Ring Of Your Dreams
Olivia Ewing Jewelry makes engagement ring shopping and buying an engagement ring easy with a wide selection of rings that fit every budget. We are in the business of making happily ever afters come true and our website allows shoppers to narrow down their search based on occasion, style, and setting to help you stresslessly find your perfect ring.
Custom pieces are also available for those that have something very specific in mind, feel free to contact us here. Now you're ready to take the next step towards the rest of your life with the one you love!